Volcanic risk management practice evolution between vulnerability and resilience: The case of Arequipa in Peru
This paper proposes a new way of understanding the debate between vulnerability and resilience. We mobilize on the theoretical level the notion of "paradigm" in the sense of Kuhn and, on the methodological level, Foucault's notion of "apparatus" to understand volcanic risk management practices. Through an interdisciplinary approach, combining management, geography and Earth sciences, we study the evolution of volcanic risk management practice in Arequipa (Peru) from the 1990s to the present. To do this, we look at the history of volcanic risk management in Arequipa, using a qualitative interview methodology based on six in-depth centered interviews from the main actors of this history, supported by a 2-month ethnography which allowed access to large institutional documentation (reports, studies, archives, maps, pictures...). Management practices in Arequipa appear to be centered on the paradigm of vulnerability since the 1990s. Some operations since 2015 named as resilient emerge but they are still inscribed in the vulnerability paradigm. The results show the relevance of the theoretical and methodological framework chosen for Arequipa but also the possibility of using it in a more general way.
Cet article propose une nouvelle manière de comprendre le débat entre vulnérabilité et résilience. Nous mobilisons sur le plan théorique la notion de paradigme au sens de Kuhn et, sur le plan méthodologique, la notion de dispositif de Foucault pour comprendre les pratiques de gestion des risques volcaniques. À travers une approche interdisciplinaire, combinant la gestion, la géographie et les sciences de la Terre, nous étudions l'évolution des pratiques de gestion du risque volcanique à Arequipa (Pérou) des années 1990 à aujourd'hui. Pour ce faire, nous nous intéressons à l'histoire de la gestion du risque volcanique à Arequipa, en utilisant une méthodologie d'entretiens qualitatifs basée sur six entretiens approfondis centrés sur les principaux acteurs de cette histoire, soutenus par une ethnographie de 2 mois qui a permis d'accéder à une importante documentation institutionnelle (rapports, études, archives, cartes, photos...). Les pratiques de gestion à Arequipa semblent centrées sur le paradigme de la vulnérabilité depuis les années 1990. Certaines opérations depuis 2015 nommées comme résilientes émergent mais elles sont toujours inscrites dans le paradigme de la vulnérabilité. Les résultats montrent la pertinence du cadre théorique et méthodologique choisi pour Arequipa mais aussi la possibilité de l'utiliser de manière plus générale.
Fichier principal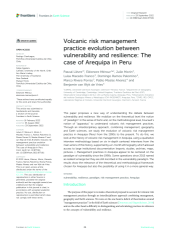 feart-10-877161.pdf (1.55 Mo)
Télécharger le fichier
Origin : Publisher files allowed on an open archive