L'impact à court terme de la crise Covid19 sur l'industrie manufacturière en Afrique : évaluations d'experts africains
The purpose of this document is to provide more details on a survey conducted among African experts during April and May, the main results of which being published in September in a paper in the journal Secteur Privé et Développement (Goujon et Mien, 2020) and relayed by Jeune Afrique. This survey focuses on the short-term impact of the health crisis on the manufacturing sector and was intended to supplement information that remained partial on the immediate situation of countries that are poorly covered by international reports and national studies and surveys. These African experts, most of whom are economists, academics, or senior government officials, were contacted using part of CERDI's network of alumni from continuing education and doctoral programs. We received feedback from 88 respondents. In terms of results, in general, these experts consider that the impact on manufacturing industry is negative, and that production for export is more significantly impacted than production for the local market. Production is more negatively (but less significantly) affected in urban (vs. rural) areas, in the formal (vs. informal) sector, and for large (vs. small) firms. With regard to product sub-sectors, not surprisingly, only pharmaceutical production seems to be able to benefit from the crisis, while the sub-sectors "food, beverages" and "machinery, equipment, transport equipment", followed by "building materials, cement" and "textiles, clothing, leather" suffer most in the short term.
Le présent document a pour but de fournir plus de détails sur une enquête menée auprès d'experts africains dans le courant des mois d'Avril et Mai et dont les principaux résultats sont publiés en septembre dans un article de la revue Secteur Privé et Développement (Goujon et Mien, 2020) relayé par Jeune Afrique. Cette enquête porte sur l'impact à court-terme de la crise sanitaire sur le secteur manufacturier et avait pour but de compléter des informations qui restaient partielles sur la situation immédiate de pays peu couverts par les rapports internationaux et études et enquêtes nationales. Ces experts africains, pour la plupart économistes, universitaires ou cadres supérieurs dans les administrations, ont été contactés en utilisant une partie du réseau des anciens étudiants du CERDI, issus de formation continue et de doctorat. Nous avons eu le retour de 88 répondants. S'agissant des résultats, de manière générale, ces experts considèrent que l'impact sur l'industrie manufacturière est négatif, et que la production pour l'exportation est plus nettement impactée que celle à destination du marché local. La production est plus affectée négativement (mais avec moins de netteté) en milieu urbain (vs rural), dans le secteur formel (vs informel) et pour les grandes entreprises (vs petites). S'agissant des sous-secteurs produits, sans surprise, seule la production pharmaceutique semble pouvoir bénéficier de la crise, alors que les sous-secteurs « alimentation, boissons » et « machines, équipement, matériel de transport », suivis de « matériaux de construction, ciment » et « textile, habillement, cuir » souffrent le plus à court-terme.
Fichier principal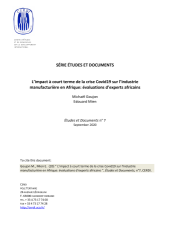 E&D_2020_7.pdf (557.68 Ko)
Télécharger le fichier
Origin : Files produced by the author(s)