Aphrodite se mirant au bouclier d'Arès : Transpositions homériques et jeux de matière dans l'epos hellénistique
The ecphraseis embedded in the epic poems of the Hellenistic period involve numerous intertextual allusions to the many passages in which Archaic epic poetry describes precious objects or the lavish shades of metals and other materials: these intertextual allusions are for instance based on etymological wordplay or on transpositions from one art to the other. This paper focusses on several case-studies. An ecphrasis found in Apollonius' Argonautica describes Jason's cloak and evokes its purple shade, a colour that does not only describe the actual colour of the embroideries but which is also reminiscent of the backdrop of Hephaistus' forge in the Iliad. In Theocritus'Idyll I, the goatherd's cup is, etymologically speaking, made of ivy-wood, a material that would normally exclude any possibility of metal or gem inlays. And yet, the helichrysos can be interpreted as the vegetal and philological equivalent of the golden inlays of the ancient shields known from the epic tradition. Finally, in Moschus'Europe, the heroin's flower basket is clearly reminiscent of the lavishly polychromatic metals known in the Archaic ecphraseis, but the description serves a new purpose, namely to discuss Homeric glossai.
L'intérêt de l'épopée archaïque pour les objets précieux et la polychromie des matières est bien reconnu dans l'ecphrasis épique hellénistique qui joue sur un certain nombre de transpositions, y compris étymologiques, au croisement des arts. Les jeux de matière et de couleurs s'inversent ainsi chez Apollonios de Rhodes dans la description du manteau de Jason, doublement pourpre, du cadre de la forge iliadique d'Héphaïstos aux motifs figuratifs tissés. Dans la première idylle de Théocrite, alors même que le bois de lierre dont est (étymologiquement) fait le vase à traire du chevrier interdit tout travail d'incrustations précieuses, l'hélichryse se déploie comme un équivalent végétal autant que philologique de l'or des premiers boucliers de la tradition épique. À l'inverse, la corbeille à fleurs d'Europe chez Moschos renoue visiblement avec la polychromie précieuse des origines, mais pour se livrer à un travail de sémantique homérique par le biais d'un motif figuratif.
Fichier principal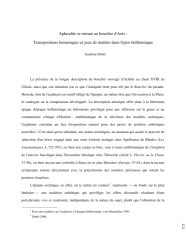 Aphrodite se mirant.pdf (403.05 Ko)
Télécharger le fichier
Origin : Files produced by the author(s)