Changements de voix : sur l'apostrophe au personnage dans l'Iliade
Changing voices : on the narrator's apostrophe to characters in the Iliad Characters, mainly Menelaos and Patroclos, are directly adressed nineteen time by the performer in the Iliad. We study first the « interchange of persons » (On the Sublime, 26-27), ie the way this apostrophe disrupts in a spectacular way the narrative continuity (proper-name vocatives, second person, context). When the narrator adresses a heros instead of talking about him, he reveals a superior olympian knowledge of the action accomplished ; he invites us to read the inversed stories of Menelaos and Patroclos as intimately intricated ; he is true to the epic contract, building up the kleos the heroes are expecting.
Dix-neuf apostrophes adressées par le narrateur primaire aux héros scandent l'Iliade, dont une quinzaine concernent Ménélas et Patrocle. Nous étudions d'abord quelques modalités de ce « changement de personne » (Traité du Sublime, 26-27), bref et spectaculaire surgissement d'une deuxième personne rompant la continuité narrative (usages du nom au vocatif, marques de la deuxième personne, contexte d'insertion), qui plus est porté par la voix de l'aède. Si le vocatif convoque le héros et produit un effet illusoire de coprésence, l'apostrophe n'opère cependant pas de brouillage entre les niveaux d'interlocution extra— et intradiégétique (métalepse) entre lesquels elle maintient une distance infranchissable : elle est révélation d'un savoir supérieur du narrateur au moment où le héros s'engage dans une action dont il ignore le sens ; elle invite à construire un réseau de sens croisant dans une histoire inverse les destins de Ménélas et de Patrocle ; enfin, en érigeant le héros en destinataire du chant, elle exhibe la fonction de célébration de la parole épique.
Fichier principal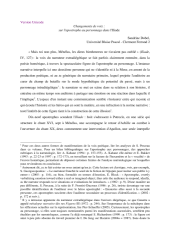 DUBEL. Apostrophe Unicode.pdf (233.73 Ko)
Télécharger le fichier
Origin : Files produced by the author(s)