La pratique du vergobret : le témoignage de César confronté aux inscriptions
The vergobret is a senior Gallic magistrate, documented between the 1st century B. C. and the 1st century A. D. among the Aedui thanks to Caesar's testimony and among the Lexovii, the Santones, the Bituriges, the Lemovici and the Vellavi thanks to inscriptions on coins and stone. The comparison of these sources allows us to define the vergobret's role in civil affairs as well as in the conduct of war. This magistracy was gradually developed during the 3rd, 2nd and 1st centuries B. C., was influenced by Greek and Roman models, and knew its final transformation in the troubled context of the 1st century A. D. dominated by Caesar's intervention in the Gallia comata. In that period the Gallic magistrates tried to exert an even stricter control over the use of time, space and cultural media (the written and the spoken word, self-celebration, memory) by their fellow countrymen. They moved away from the old patterns inherited from the Celtic koinè, from the druids and the bards, while the Roman imperator challenged their right of appearing on the battle-field. Such a situation probably eased the transition towards the municipal magistracies on the Roman model after the conquest.
Le vergobret est un magistrat suprême gaulois, attesté entre le Ier siècle av. J.-C. et le Ier siècle apr. J.-C. par le témoignage de César chez les Éduens et par l'épigraphie monétaire et sur pierre chez les Lixoviens, les Santons, les Bituriges, les Lémovices et les Vellaves. La confrontation des sources permet de caractériser la pratique du vergobret aussi bien dans les affaires civiles que dans la conduite de la guerre. Inventée au cours des IIIe, IIe et Ier siècles av. J.-C., influencée par des modèles grecs puis romains, cette magistrature connut une ultime transformation dans le contexte troublé du Ier siècle av. J.-C. dominé par l'intervention de César dans la Gaule Comata. Les magistrats gaulois cherchèrent alors à maîtriser encore plus étroitement le temps, l'espace et les médias culturels (écriture, parole, autocélébration, mémoire) de leurs compatriotes d'alors, en prenant leurs distances avec les anciens cadres hérités de la koinè celtique, druides, bardes, tandis que l'imperator romain leur contestait le droit d'apparaître sur le champ de bataille. C'est d'ailleurs cet environnement qui permit sans doute le passage en douceur vers les magistratures municipales de type romain après la conquête.
Fichier principal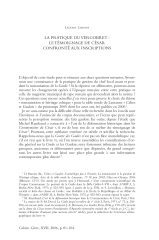 Lamoine 2006 La pratique du vergobret.pdf (143.5 Ko)
Télécharger le fichier
Origin : Explicit agreement for this submission