Reproductibilité et modèles Covid - un modèle multi-agents
There are a myriad of models for simulating outbreaks. We have tried to test about 20 CoVid models and find that we can rarely replay the simulations. Without expecting perfect repeatability and portability, access to the model and the ability to reproduce similar results with the same scientific conclusions is essential for the advancement of Science. In this article, we give an overview of the state of the art concerning Covid modeling, then we recall what are the concepts of repeatability and reproducibility in the scientific framework, and finally we outline the choices made to have a multi-agent simulation model with an available code, a quick handling without neglecting the consideration of the main sanitary measures for decision support and understanding of this type of pandemic.
Il existe une myriade de modèles pour simuler les épidémies. Nous avons essayé de tester une vingtaine de modèles CoVid et nous constatons qu'il est bien rare que nous puissions rejouer les simulations. Sans aller jusqu'à espérer une répétabilité et une portabilité parfaite, l'accès au modèle, la capacité à reproduire des résultats similaires avec les mêmes conclusions scientifiques est essentielle pour l'avancement de la Science. Dans cet article, nous dressons un aperçu de l'état de l'art concernant la modélisation Covid, puis nous rappelons ce que sont les concepts de répétabilité et de reproductibilité dans le cadre scientifique, et enfin nous esquissons les choix faits pour disposer d'un modèle de simulation multi-agents avec un code disponible, une prise en main rapide sans négliger la prise en compte des principales mesures sanitaires pour l'aide à la décision et à la compréhension de ce type de pandémie.
Fichier principal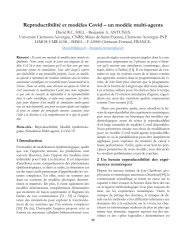 SMA-Covid-RR Hill-Antunes v20.pdf (676.04 Ko)
Télécharger le fichier
Origin : Files produced by the author(s)