Perception de la COVID-19 et comportement des ménages en Argentine
This article explores Argentinean perceptions and attitudes towards the COVID-19 pandemic. The analysis is based on a telephone survey conducted with a representative sample of 1000 respondents. The analysis shows that Argentines have overwhelmingly approved the health and economic policies followed by their government, and, as a result, have adopted the recommended health behaviour. Among the many factors that have influenced Argentines' perceptions and attitudes, trust in institutions (president, governor, mayor) and, to a lesser extent, to the medical and scientific community emerges as a major determinant. Among the emotions, fear also proves to be a powerful driver of compliance with health regulations. Finally, the results underline the importance of social shock support measures, which help to reduce the costs associated with precautionary behaviour. These findings are robust to the inclusion of a wide set of socio-demographic control variables such as age, gender, education level, place of residence, and individuals' economic status.
Cet article explore les perceptions et attitudes des argentins face à l'épidémie de COVID-19 à partir d'une enquête téléphonique menée auprès d'un échantillon représentatif de 1000 répondants. L'analyse montre que les argentins ont massivement approuvé la politique sanitaire et économique suivie par leur gouvernement, et, en conséquence, modifié leur comportement. Parmi les nombreux facteurs qui ont influencé les perceptions et attitudes des argentins, la confiance dans les institutions (président, gouverneur, maire) et, dans une moindre mesure, dans la communauté médicale et scientifique ressort comme un déterminant majeur de l'adhésion des argentins à l'ensemble de la politique menée ainsi que du respect des mesures de distanciation sociale et des gestes barrière. Parmi les émotions, la peur s'avère également un puissant moteur du respect des consignes sanitaires. Les résultats soulignent enfin l'importance des mesures d'accompagnement du choc social, qui permettent de réduire les coûts associés aux comportements de précaution. Ces conclusions sont robustes à l'inclusion d'un vaste ensemble de variables de contrôle sociodémographiques telles que l'âge, le genre, le niveau d'éducation, le lieu de résidence, et le statut économique des individus.
Fichier principal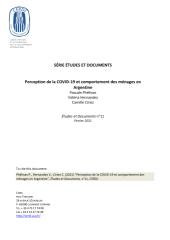 E&D_11.pdf (1.19 Mo)
Télécharger le fichier
Origin : Files produced by the author(s)