Biodiversity and ecology of diatoms in mineral springs of the area of Sainte Marguerite (Saint-Maurice-ès-Allier, Massif central, France)
This study investigated the diatom flora from mineral springs in Auvergne (France). Samples were collected from rock/cobbles and fine sediments in 17 springs between November 2014 and April 2015 in which a total of 58 taxa were found. Among the different taxa present in some of the studied springs, two have been recently described: Navicula sanctamargaritae and Sellaphora labernardierei. Crenotia thermalis was observed in all sites except in the Nid de l'Epervier spring. Multivariate analyses revealed differences in species abundance among the springs due to the physical and chemical characteristics and mainly to the presence or absence of nutrients. Petit Jean spring is separated from the other springs and is characterized by a lower calcium concentration. In this site, Pinnularia kuetzingii, Navicula veneta and Fallacia pygmaea were the dominant species. This study brings a better knowledge of the diatom biodiversity of mineral springs and the ecology of each species present.
Cette étude a porté sur la flore de diatomées provenant de sources minérales d'Auvergne (France) et plus précisément sur le secteur de Saint-Maurice-ès-Allier. Des échantillons de diatomées ont été pris sur des roches / galets et des sédiments fins dans 17 sources entre novembre 2014 et avril 2015, dans lesquelles 58 taxons au total ont été trouvés. Parmi les différents taxons, deux présents dans certaines des sources étudiées ont été récemment décrits: Navicula sanctamargaritae et Sellaphora labernardierei. Crenotia thermalis était présent sur tous les sites sauf dans la source Nid de l'Epervier. Des analyses multivariées ont révélé des différences dans l'abondance des espèces entre les différentes sources en raison de leurs caractéristiques physiques et chimiques et principalement en lien avec la présence ou non de nutriments en forte concentration. La source Petit Jean était séparée des autres sites et caractérisée par une concentration en calcium inférieure à celle des autres sources. Pinnularia kuetzingii, Navicula veneta et Fallacia pygmaea étaient les espèces dominantes sur ce site. Cette étude a permis de mieux connaître la biodiversité des diatomées des sources minérales et l'écologie de chaque espèce présente.
Fichier principal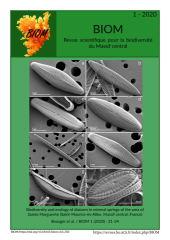 250-Texte de l'article-906-1-10-20200621.pdf (5.59 Mo)
Télécharger le fichier
Origin : Publisher files allowed on an open archive