Politeness strategies in the job application letter: Implications of Intercultural Rhetoric for designing writing feedback
This paper makes the case that writing feedback on grammar error alone is ineffective. Designing more effective writing feedback requires drawing on a broader understanding of the writer's cultural context and present situation. The current study explores this context by using an Intercultural Rhetoric approach to examine job application letters written in English by a group of French-speaking undergraduates. A mixed research design was used to investigate the effectiveness of the politeness strategies used in their letters: a move-based lexico-grammatical analysis was combined with qualitative methods (group discussion, survey) to describe the devices students used to express politeness in the acts of requesting and thanking in job application letter endings, and to evaluate whether or not the strategies they chose were indeed 'polite'. Results underscore the fact that teaching politeness devices or grammar alone is far from sufficient to help NNE students improve their effectiveness in writing; writing feedback must be multimodal (oral, written, visual, behavioral). This study contributes to research on writing feedback using Intercultural Rhetoric research.
Cet article part du constat que les commentaires d'enseignant qui portent uniquement sur l'erreur grammaticale semblent inefficaces pour aider les étudiants non anglophones à progresser à l'écrit en anglais. Une conception plus pédagogique des commentaires nécessite une meilleure prise en compte du contexte culturel et de la situation du rédacteur. S'inscrivant dans le cadre de la Rhétorique Interculturelle, la présente étude examine les lettres de motivation écrites en anglais par un groupe d'étudiants de langue française. L'efficacité des stratégies de politesse utilisées dans leurs lettres est évaluée sur deux plans : une analyse lexico-grammaticale des " moves ", mais aussi des analyses qualitatives afin de décrire les dispositifs utilisés pour exprimer la politesse. Il ressort qu'enseigner des formules de politesse par la grammaire seule ne constitue pas une aide suffisante pour permettre aux étudiants d'améliorer leur efficacité à l'écrit en anglais. Les commentaires d'enseignant, pour être efficaces, doivent être multimodaux (oral, écrit, visuel et comportemental).
Fichier principal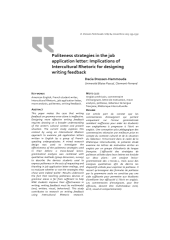 2014_ASp.pdf (277.65 Ko)
Télécharger le fichier
Origin : Files produced by the author(s)