The anatomy of the thyroid gland among "fishes": phylogenetic implications for the Vertebrata by
A study on the structure of the thyroid gland of 288 vertebrate species, conducted both on 99 dissections and analysis of the literature, leads to propose the following interpretations: i) the presence of this gland is a synapomorphy of Vertebrata; ii) a compact gland is a synapomorphy of Gnathostomes; iii) a diffuse gland is a possible synapomorphy of Halecostomes; iv) several independent cases of concentration in a few lobes in several groups, like Scaridae, Scombridae and some Carangimorphariae occurred and even a compact gland in Osteoglossomorphes. Moreover, the scattering of thyroidian islets in other organs (cephalic kidney, choroid,\ldots) has occurred several times in teleost lineages and a compact thyroid gland embedded in a blood sinus appears to be a probable synapomorphy of Tetraodontiformes and Lophiiformes.
une étude de la structure de la thyroïde chez 288 espèces de vertébrés, menée à partir de 99 dissections et d'analyses de la littérature, permet de proposer les interprétations suivantes: i) la présence de cette glande est une synapomorphie des vertébrés ; ii) une glande compacte est une synapomorphie des gnathostomes ; iii) une thyroïde diffuse est une synapomorphie possible des halécostomes ; iv) il existe plusieurs cas indépendants de concentration en quelques lobes chez les Scaridae, les Scombridae et certains Carangimorphariae, et même une thyroïde compacte chez les Osteoglossomorphes. Enfin, un éparpillement d'îlots thyroïdiens dans d'autres orga-nes (rein céphalique, choroïde,...) est apparu plusieurs fois chez les téléostéens et une thyroïde compacte incluse dans un sinus sanguin est une probable synapomorphie des tetraodontiformes et des Lophiiformes.
Fichier principal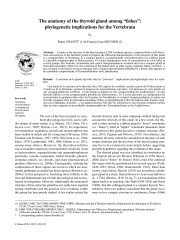 Chanet et Meunier 2014.pdf (3.55 Mo)
Télécharger le fichier
Origin : Explicit agreement for this submission