Type VI secretion system in Klebsiella pneumoniae : communication device and/or antibacterial weapon ?
Système de sécrétion de type VI chez Klebsiella pneumoniae : dialogue moléculaire et / ou arme antibactérienne ?
Klebsiella pneumoniae is an opportunistic pathogen with multiple antibiotic resistance, responsible for hospital-acquired infections consecutively to intestinal microbiota colonization. If biofilm formation processes are well described for this pathogen, competitive interactions within complex microbial communities, such as intestinal microbiota, remain poorly understood. Type VI secretion systems (T6SSs) act as molecular syringes and are found in more than 25% of Proteobacteria. T6SSs are involved in secretion and injection of toxic effectors into adjacent prokaryotic and/or eukaryotic cells through direct contact and their expression is dependent of many environmental stressors. Such a system has been recently described in hypervirulent K. pneumoniae clones as implied in virulence and bacterial warfare but remains poorly described in classical K. pneumoniae strains (cKp). The aim of this study was to investigate the prevalence of the T6SS and its effectors among different Klebsiella spp. genomes and to understand its role in intestinal colonization and its transcriptional regulation in a classical clinical isolate, K. pneumoniae CH1157.An in silico approach identified the presence of one to four T6SS related clusters in 427 Klebsiella genomes, associated with a high prevalence in K. pneumoniae species, independently of the geographical origin of the strains. Two T6SS related clusters were highlighted in CH1157 strain (T6SS-1 and -2), harboring a phospholipase (tle1) and an endopeptidase (tke) encoding gene, respectively. The tle1 and tke genes were also identified in other K. pneumoniae genomes. The periplasmic Tle1 and Tke expression via site-directed expression in E. coli DH5α impaired bacterial growth and membrane permeability suggesting that these effectors impair the bacterial capacity to survive in a stressor environment such as the intestinal tract.The impact of the T6SS on microbiota has been investigated in a murine gastrointestinal colonization model, where streptomycin pre-treated mice were inoculated with either the CH1157 wild-type strain or its derivative T6SS-1 mutants (∆tssB and ∆clpV). T6SS-1 mutants were drastically impaired in their long-term gut colonization ability in comparison to the WT strain. High-throughput 16S rDNA sequencing of fecal microbiota revealed that T6SS-1 is implied in gut dysbiosis 50 days post-infection, associated with decreased richness, diversity and resilience capacity. T6SS-1 was also correlated with specific absence of members of Oscillospiraceae family. The antibacterial activity of the T6SS towards genus or species belonging to this family remains to be determined.T6SS-1 and -2 genes expression regulation is a complex aspect underlined in this study. Potential binding sites for ArgR and Fnr transcriptional regulators were both identified in silico and in vitro in the T6SS-1 promoter region. Specific conditions leading to T6SS expression in cKp remains to be elucidated but could implied environmental stressors, such as those found in gastrointestinal tract like bile salts or epithelial cell contact. Taken together, these results highlighted a major role of the T6SS in K. pneumoniae host-pathogen interactions. Further investigation is needed to better understand the implication of this newly identified virulence factor of K. pneumoniae in pathophysiological process and to allow the development of long-term therapeutic strategies.
Klebsiella pneumoniae est un pathogène opportuniste multi-résistant aux antibiotiques, responsable d'infections liées aux soins, souvent consécutives à la colonisation du tractus digestif. Les processus de formation de biofilm sont bien décrits pour ce pathogène, mais les interactions compétitives au sein de communautés microbiennes complexes, comme le microbiote intestinal, restent mal comprises. Les systèmes de sécrétion de type VI (SST6) sont de véritables seringues moléculaires, et sont retrouvés chez plus d'un quart des Protéobactéries. Ils sont impliqués dans la sécrétion et l'injection d'effecteurs toxiques dans des cellules procaryotes et/ou eucaryotes par contact direct, et leur expression est liée à différents stress environnementaux. Le SST6 a été récemment décrit dans des clones hypervirulents de K. pneumoniae où il est impliqué dans la virulence et la compétition inter-bactérienne, mais peu de données concernent les souches classiques de K. pneumoniae (cKp). L'objectif de ce travail était d'analyser la prévalence du SST6 et de ses effecteurs dans différents génomes du genre Klebsiella spp, d'étudier son rôle dans la colonisation intestinale ainsi que sa régulation transcriptionnelle dans une souche clinique de référence, K. pneumoniae CH1157. Une approche in silico a permis d'identifier la présence d'un à quatre opérons SST6 dans 427 génomes de Klebsiella, avec une forte prévalence au sein de l'espèce K. pneumoniae, indépendamment de l'origine géographique des souches. La présence de deux opérons (SST6-1 et -2) a été mise en évidence dans le modèle d'étude CH1157, contenant respectivement deux gènes codant des effecteurs de type phospholipase (tle1) et endopeptidase (tke), également identifiés dans d'autres génomes de K. pneumoniae. L'expression périplasmique de Tle1 et Tke en système hétérologue chez E. coli DH5α altère la capacité de croissance ainsi que la perméabilité membranaire, ce qui suggère une activité antibactérienne médiée par les effecteurs du SST6 en lien avec un environnement stressant tel que le tractus gastro-intestinal.L'impact du SST6 sur le microbiote a été étudié dans un modèle murin de colonisation gastro-intestinale avec la souche CH1157 sauvage versus des mutants isogéniques invalidés pour le SST6-1 (∆tssB et ∆clpV). Les mutants ont montré une moindre capacité de colonisation du tractus gastro-intestinal à long terme par rapport à la souche sauvage. L'analyse des microbiotes fécaux par séquençage à haut débit de l'ADNr 16S a mis en évidence le rôle du SST6-1 dans la dysbiose du microbiote intestinal 50 jours post-infection, avec un impact sur sa richesse, sa diversité et sa résilience. La présence du SST6-1 est corrélée à une absence spécifique des membres de la famille des Oscillospiraceae. L'activité antibactérienne du SST6 envers des genres ou espèces de cette famille reste cependant à déterminer.La régulation de l'expression des gènes codant les SST6-1 et -2 est un aspect complexe soulevé dans cette étude. Des sites de fixation pour les régulateurs transcriptionnels ArgR et Fnr ont été identifiés au niveau de la région promotrice du SST6-1, à la fois in silico et in vitro. Les conditions de régulation de l'expression des SST6 dans les souches cKp restent à élucider mais pourraient faire intervenir des stress rencontrés au niveau du tractus gastro-intestinal tels que la présence d'acides biliaires ou encore le contact de cellules épithéliales.L'ensemble de ces résultats souligne un rôle majeur du SST6 chez K. pneumoniae dans les interactions hôte-pathogène. Il apparait indispensable de continuer les investigations de ce nouveau facteur de pathogénicité chez K. pneumoniae afin de mieux comprendre son implication dans le processus physiopathologique et permettre le développement de stratégies thérapeutiques innovantes à long terme.
Fichier principal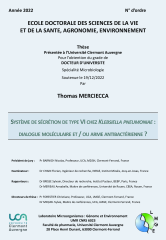 2022UCFAC080_MERCIECCA.pdf (26.23 Mo)
Télécharger le fichier
Origin : Version validated by the jury (STAR)